Careers in United Development Company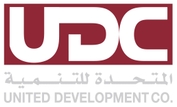 United Development Company QSC (UDC) is a leading Qatari shareholding company with a mission to identify and invest in long-term projects contributing to Qatar's growth and providing good shareholder value. Established in 1999, the company was listed on the Qatar Exchange in June 2003. It has an authorized share capital of QR 3.372 billion, total assets of QR 18.764 billion at 31 December 2013 and a market capitalization of QR 7.625 billion.
UDC's target areas of interest include: infrastructure, real estate, energy-intensive industries, hydrocarbon downstream manufacturing, maritime and environment-related businesses, urban development, utilities, hospitality, retail and fashion, information technology, media and communications, property management, insurance, security and other services.
From day one, the company's mission has been to become a cornerstone in the development of Qatar and the region, creating lasting value and maximizing returns for partners and shareholders. Through a combination of project activities and commercial enterprise, UDC has developed into the first-choice private sector and joint venture partner for international investors in Qatar, and has successfully established several new companies and investment vehicles across the region including Hospitality Development Company (HDC), United Fashion Company (UFC), Ronautica Middle East, Madinainova, Resorts and Leisure Company and The Pearl Owners Corporation.
Since 1999, UDC has progressively moved from the project research stage into the development, production and operations stage. Project research has led to the creation of companies, considered to be among the most successful in their related fields. The company prides itself in its ability to create quality investment opportunities at home and overseas.
UDC's founders and current Board members are among Qatar's most successful investors and developers. Qatari shareholders own 75 percent of the company's total shares, while the remaining 25 percent are held by international investors.The company continues to quest for excellence and progress by identifying and adding new investments and partnerships to its diversified portfolio of excellent businesses.
There are always new vacancies coming up in United Development Company . While this is not the official career page United Development Company , we hope to quickly show you below the current live vacancies on the net.
United Development Company Jobs
Assists in origination and new business development for existing portfolio companies and provides hands-on support to portfolio companies whenever required....
Dubai
Banking and Company Formations. Oversees the preparation of the financial statements for the company and wider group companies....
Dubai
Business Development/Marketing/HR) in respect of client reporting, monitoring, strategy, and developments. Deal with day-to-day queries from the Partners and...
UAE
Challenging planning and reporting, questioning developments, suggesting operational and strategic improvements, developing answers together with MD,...
UAE
Responsible for the review, design and development of Standard Operating Procedures. Please only apply for this role if you have the below experience, are based...
Dubai
Key responsibilities include for all financial reporting, planning and control activities for operating assets, development assets, joint ventures as well as...
UAE
To assist line manager in the development process of company's policies, procedures and controls at various levels through input of legal advice on relevant...
Dubai
Proven track record of successful project delivery, an ability to improve project management practices by implementing new techniques and tools and substantial...
Dubai
Guide the business development efforts of the centre by providing a detailed go-to-market plan which needs to be revised/updated annually....
Dubai
Produce financial forecast and plans inline with company strategy and objectives. Prepare market and brand specific operating plans to align all with marketing,...
Dubai
Establish effective business relationships within the company and assist management in the understanding and adaptation of internal control principles....
Dubai
A leading Real Estate Development company is looking to recruit a Finance Director to be based in Dubai. Experience of residential real estate development,...
Dubai
You are a certified lawyer with a minimum of 3-5 years relevant working experience preferably from top law firms preferably combined with an experience as an in...
Dubai
Planning and implementing all organizational requirements to ensure the department has sufficient and qualified employees to exceed customer expectations, the...
Al-Ayn
United Development Company
http://jobs.laimoon.com/company/united-development-company
Rated
5
/5 based on
1
evaluations