Careers in The Savola Group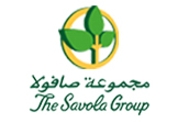 The Savola Group was established in 1979 as a public joint stock company with the objective of manufacturing and marketing edible oil and vegetable ghee in Saudi Arabia. Company is now one of the most successful and fastest-growing food and retail groups in the Middle East, North Africa, and Turkey (MENAT) region.
The Group has a broad portfolio of activities (which include foods and retail). Main activities in the foods sector are the production and marketing of edible oils, vegetable ghee, sugar, and pasta. The retail sector operates a chain of hypermarkets, supermarkets, and convenience stores. Savola also has significant investments in leading Saudi publicly listed companies such as Almarai and Herfy, and real estate development companies such as Knowledge Economic City and Kinan Real Estate, as well as holdings in private equity funds.
Nationalization & HR programs:
The Group continues its care regarding the human element, which it considers the most important resource, through recruiting specialized leadership that is capable of creating a healthy and appealing environment, appropriate management structures, and policies suited for development, training, and management successor systems to lead towards a bright future.
Within this context, the Group works continuously to recruit and develop young Saudi talent. Within the company's plan for 2015-16 is the recruitment and development of the Saudi youth in different teams. Most leadership and executive positions in the Group are already occupied by capable and qualified Saudi nationals. The general management of the Group and its subsidiaries in the Kingdom also comply with the Nitaqat initiative introduced by the Ministry of Labor during previous years. Details of manpower at Group and subsidiary level are:
Employees – total employees Group-wide numbered about 31,000 at the end of 2015.
General management – general management numbered 69, of whom 36 are Saudi nationals, equating to 57% Saudization.
Retail Sector (Panda Retail Company) – Panda achieved growth in its Saudi workforce in 2015, rising from an average of 6,600 employees in 2014 to more than 7,200. This represents about 30% of Panda's total workforce of around 24,000.
Foods Sector (Savola Foods Company) – employees within Saudi Arabia totaled 1,166, of whom 519 were Saudi nationals, representing 44.5% Saudization. Overseas Foods Sector employees reached 5,655, bringing the total in Foods Sector locally & internationally to around 6,821 people.
Performance Summary , 2015
The consolidated net profit for 2015 amounted to SAR 1.79 Billion, compare to SAR 2 Billion of last year.
Consolidated Revenues for 2015 amounted to SAR 26,43 Billion compare to SAR 26.59 Billion of last year.
Savola & the Community
Savola is a pioneer in the region in the areas of Corporate Social Responsibility (CSR), corporate Governance and Ethics & Values. More information on these initiatives is available in the relevant sections of this website.
We welcome you to our website.
There are always new vacancies coming up in The Savola Group. While this is not the official career page The Savola Group, we hope to quickly show you below the current live vacancies on the net.
There are currently no active Jobs from The Savola Group.
The Savola Group
http://jobs.laimoon.com/company/the-savola-group
Rated
5
/5 based on
1
evaluations