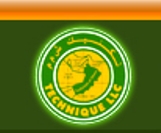 Technique LLC is a multi-product trading, engineering and service company. It has extensive expertise and facilities capable of servicing and repairing vehicles, designing and managing air-conditioning and refrigeration projects and designing and fabricating complex structures. More recently Technique designed, built and is now operating the first Medical Waste Treatment Plant for the Ministry of Health Oman and introducing the first Transfer Stations and Landfill Sites for the Ministry of Regional Municipalities, Environment and Water Resources.In addition Technique provides extensive logistic support and distribution services to both the government and the private sectors across the country and recognizes that its commercial success depends solely in meeting its customer's needs.
Technique LLC, established in 1976 by the late Highness Sayyid Faher Bin Taimur Al-Said is still a family owned enterprise under the Chairmanship of Abdullah Al Dhabari.Over a period of 30 years, Technique LLC has developed a number of core activities. These include the supply of Defence Equipment, Aircraft and Automotive Refinishes, Marine and Industrial Protective Coatings, Lubricants and Oils, Air-conditioning and Refrigeration, Military and Commercial Trucks, Waste Management Services and Equipment, Automotive / Heavy Construction Equipment Spares.
All these activities are supplemented by a Logistics Division and a fully equipped Automotive Workshop for the servicing and repairing of all makes of cars and trucks. This includes body work repairs (including GRP) and partial or total re-sprays. In addition, adjacent to the workshop, is a fabrication facility capable of producing high quality welded structures for both military and civilian markets.To ensure that customers receive a consistent high level of quality from Company's products and services, Technique worked towards attaining ISO 9001 accreditation. This was achieved in 2001.
Capitalizing on Company's long experience and expertise in the Automotive sector, Technique has recently introduced and is developing its own 'brand' retail outlets in key locations throughout Oman, i.e., Ghubra, Ghala, Salalah and shortly Sohar. These outlets are supplemented by Technique's independent network of some 100 plus distributors for Sikkens Automotive Coatings and Caltex Oil and Lubricants.These distributors now complement 110 plus Al Maha Petrol Forecourts to which Technique LLC are supplying Caltex Oils & Lubricants as a part of its marketing and distribution responsibilities agreed by Al Maha Petroleum Products Marketing Company SAOG and Caltex – Chevron Global Lubricants.
In addition a major showroom complex has been established in Ghala for the distribution of Construction Equipment Spares primarily Caterpillar, Komatsu and JCB under the management of a joint venture with Dahbashi Engineering of Dubai, trading under Technique – Dahbashi HEPS.Over and above the products supplied and serviced, Xpress Rent-a-Car was initially established to meet the requirements of Technique's overseas Principals and Suppliers who were visiting the Sultanate for short periods or on long term contracts. It has subsequently developed into a major business in its own right and currently rents and leases small, medium and luxury cars together with 4 x 4 vehicles to local government, corporate clients and select members of the public.
There are always new vacancies coming up in Technique LLC. While this is not the official career page Technique LLC, we hope to quickly show you below the current live vacancies on the net.
There are currently no active Jobs from Technique LLC.
Technique LLC
http://jobs.laimoon.com/company/technique-llc
Rated
5
/5 based on
1
evaluations