Careers in SYKES ASIA, INC.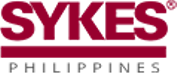 In 1997, SYKES made history by being the first call center to support Filipino talent. With only 14 employees, SYKES began operations in the Philippines. But through company's commitment to excellence, innovative process and committed team, SYKES has rapidly expanded it's business operations across Metro Manila, more than doubling it's man power in less than 10 years.
In 2003, SYKES continued it's pioneer mark as it became the first call center to operate in Cebu.
Today, SYKES Philippines has a team of almost 13,000 capable and dedicated employees working in 8 different sites to support Fortune 500 clients across the globe. SYKES continues to partner with the Filipinos to deliver unparalleled support.
Company are all about SUPPORT.
SYKES supports Fortune 500 companies by providing them exceptional customer, technical and back office support.
Company support company's community by helping less fortunate children have better access to education.
Most of all, company support company's people – in pursuing their passion, career development and the power to choose what matters to them the most.
There are always new vacancies coming up in SYKES ASIA, INC. . While this is not the official career page SYKES ASIA, INC. , we hope to quickly show you below the current live vacancies on the net.
There are currently no active Jobs from SYKES ASIA, INC. .
SYKES ASIA, INC.
http://jobs.laimoon.com/company/sykes-asia-inc
Rated
5
/5 based on
1
evaluations