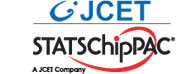 STATS ChipPAC is a leading provider of advanced semiconductor packaging and test services to global customers in the communication, consumer and computing markets. With a broad technology portfolio ranging from leadframe and laminate packages to advanced fan-out and fan-in wafer level technology, flip chip interconnect, System-in-Package (SiP), Through Silicon Via (TSV) and 2.5D/3D packaging, STATS ChipPAC provides customers with innovative and cost-effective semiconductor solutions. STATS ChipPAC differentiates itself through innovative packaging solutions in embedded Wafer Level Ball Grid Array (eWLB), encapsulated Wafer Level Chip Scale Packaging (eWLCSP) and fcCuBE® technology as well as Company's breakthrough wafer level manufacturing method known as FlexLineTM.
Founded in Singapore in 1994, STATS ChipPAC grew successfully over the years into a global Outsourced Semiconductor Assembly and Test (OSAT) provider with strategic manufacturing operations in Singapore, South Korea and China. These sites are integrated with Company's global network of research and development, design and customer support offices throughout Asia, the United States and Europe.
STATS ChipPAC was acquired by Jiangsu Changjiang Electronics Technology Co., Ltd. (JCET) in 2015 and organized as a business unit. Founded in 1972, JCET is the largest semiconductor packaging and test provider in China. JCET's product portfolio covers leaded, discrete, laminate, bumping and wafer level chip scale packaging (WLCSP). Headquartered in Jiangyin, Jiangsu, China, JCET has four manufacturing facilities in the Jiangsu and Anhui provinces in China.
Jiangyin Changdian Advanced Packaging Co., Ltd. (JCAP) is a subsidiary of JCET which provides turnkey services including wafer bump, probe and assembly. Founded in August 2003, JCAP is a leader in advanced wafer bump technology (solder bump, gold bump, pillar bump) and Wafer Level Chip Scale Packaging. JCAP's facilities are located in Jiangyin, Jiangsu, China.
As a member of the JCET group of companies, STATS ChipPAC has the competitive advantage of increased manufacturing scale with a combined product portfolio ranging from discrete and low leadcount devices to the most advanced flip chip, wafer level, SiP and 2.5D/3D packaging solutions.
JCET is a publicly-traded company and listed on the Shanghai Stock Exchange.
There are always new vacancies coming up in STATS ChipPAC. While this is not the official career page STATS ChipPAC, we hope to quickly show you below the current live vacancies on the net.
There are currently no active Jobs from STATS ChipPAC.
STATS ChipPAC
http://jobs.laimoon.com/company/stats-chippac
Rated
5
/5 based on
1
evaluations