Careers in Solitaire Gem Labs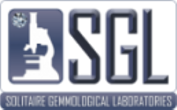 Solitaire Gem Labs (SGL) is an independent international laboratory that provides professional gemstone identification and grading services to the gems & jewellery industry worldwide through its centres in London, Dubai, Riyadh, Mumbai, Bangalore, Chennai, Hyderabad, Thrissur, Coimbatore, Pune, Jaipur and Kolkata.
All SGL laboratories, as a part of the seamless network, use the same system, process, technology and methodology globally to provide top of the line service to the gems & jewellery industry. By combining innovative thinking, new technology, and values such as integrity and commitment, SGL has built gemmological laboratories equipped to meet the ever so evolving challenges of the industry. Each day, we strive to protect diamond retailers, manufacturers, traders and the end consumers, by providing them with the highest quality reports and professional services.
As a gemmological laboratory, we confine ourselves to the analysis and interpretation of the scientific characteristics of gemstones. This will help us lead the way to benchmark our presence as one of the leading gemmological laboratories around the world.
SGL is a neutral organisation and does not endorse or recommend any commercial product, company or individual, including companies or individuals with websites that may offer a link for any related services to the Solitaire Gemmological Laboratories Ltd. website.
There are always new vacancies coming up in Solitaire Gem Labs. While this is not the official career page Solitaire Gem Labs, we hope to quickly show you below the current live vacancies on the net.
Solitaire Gem Labs
There are currently no active Jobs from Solitaire Gem Labs.