Careers in SM Automatic Laundry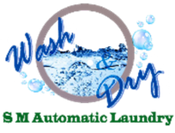 www.smautomaticlaundry.com
Last 3 years in business, SM Automatic Laundry has grown leaps & bounds.
SM Automatic Laundry Staff interact with customers in a friendly way, who drop off and pick up their clothes.
Our staff always respond to customers who provides feedback and or complains.
Our Staff are detail oriented.
Fabrics which are delicate and require special care in cleaning. In addition to looking for spots and stains, our workers pay attention to the type of fabric to ensure that the item is cleaned properly.
Stamina.
Our Staff is been administered with the required Vaccinations as per the directives of Ministry of Health
There are always new vacancies coming up in SM Automatic Laundry. While this is not the official career page SM Automatic Laundry, we hope to quickly show you below the current live vacancies on the net.
SM Automatic Laundry
There are currently no active Jobs from SM Automatic Laundry.