Saudi Arabian AMIANTIT Company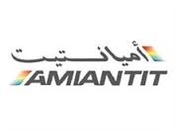 Overview
The Saudi Arabian Amiantit Company (Amiantit) was established in1968 in Dammam in the Kingdom of Saudi Arabia to manufacture pipes for the local market. Since then, Amiantit has grown and developed into a major diversified industrial group with operations spanning the globe. The Groups core business activities comprise:
Manufacture and sale of pipe systems
Ownership and sale of pipe technologies
The provision of water management consultancy and engineering services
Manufacture and supply of polymer products
Today, Amiantit markets a wider range of pipe products than any other pipe manufacturer, and provides a total solution to customers fluid transfer needs, designed to optimise the applied technology and costs. The Group serves municipal, civil engineering, industrial, energy, and agricultural markets worldwide, supporting global infrastructure development.
The Group comprises 30 pipe system manufacturing plants, 6 technology companies, 4 materials suppliers, and 8 supply and engineering subsidiaries, in a number of countries around the globe. In addition, an extensive sales and service network caters for the needs of customers in more than 70 countries around the world.
Amiantit is headquartered in the Kingdom of Saudi Arabia, where its shares are listed on the Saudi Stock Exchange.
Vision
To actively participate in a global effort where all peoples would have access to clean and drinkable water supplied through sustainable social and environmental solutions
Goals
1. By leveraging our leadership in research, development and ownership of pipe manufacturing technologies we aim to continue to be the world's top provider of GRP pipe systems.
2. To continuously achieve higher profitability by increased growth and by optimized cost while maintaining
highest quality standards.
3. To continue our selective strategic expansion into emerging markets that offer long term opportunities.
Divisions
The Group's core business activities are organized into five separate operating divisions. These cover the manufacture of pipe systems; the supply of pipe technologies; a global sales and service network; provision of water management consultancy and engineering services; and the production of polymer products for industry.
Pipe Systems
Amiantit has 30 pipe manufacturing facilities in 18 countries. Materials include Glass Reinforced Plastic (GRP), Glass Reinforced Epoxy (GRE), thermoplastics, concrete, polymer concrete, and ductile iron. The comprehensive range includes pipes and accessories for water, sewage, hydro-power, gas, oil services, construction, engineering, municipal, industrial, agricultural and marine applications.
Technology
Amiantit wholly or jointly owns six leading pipe system technology companies, and has a close relationship with several others, making it a global leader in pipe technology. Key advanced pipe technologies cover Glass Reinforced Plastic (GRP), Glass Reinforced Epoxy (GRE), ductile iron, and polymer concrete.
Trading
Amiantit has developed an extensive global sales and service organisation to ensure that customers in more than 70 countries around the world have access to the vast array of pipe systems, pipe technologies and other services offered by the Group. This network in addition to the marketing offices in Saudi Arabia comprises Amiantit Pipe Systems (APS) and Amitech.
Water Management
Water management consultancy and engineering services are provided by the Group through a number of subsidiaries of international renown.
There are currently no active Jobs from Saudi Arabian AMIANTIT Company.
Saudi Arabian AMIANTIT Company
http://jobs.laimoon.com/company/saudi-arabian-amiantit-company
Rated
5
/5 based on
1
evaluations