Careers in Safe Systems For Advanced Technologies-SSFAT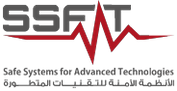 SSFAT is Saudi based company which provides services for Material testing including NDT & DT, Welding laboratories, Quality, Health Safety, Environment, Food Safety and Social responsibility management systems trainings, consultancy and audits. We are dedicated to serve industrial sector, as well as academic and government institutions through awareness of modern scientific and engineering problems applied in Safety and Material testing, Development of leading edge, cost-effective technologies, Optimal selection of new and emerging methods, Efficient and cost saving applications. Our Vision To deliver strategic advice, trainings and professional business services to our customers. A trusted partner for 'business' & 'technology' objectives - governance, strategy and structured outcomes in alignment with business requirements. • Trustworthy • Pro-active • Understanding • Capable • Team orientated Our Values: • We have passion for what we do • We take responsibility • We deliver what we say we will • We do everything excellently • We work with integrity What We Do: We offer experienced and cost effective professional guidance and provide quality independent and confidential services. Our main focus areas in Testing, Trainings, Consultancy & Auditing includes: • QHSE Management Systems • Non-Destructive Testing • Destructive Testing • Welding Laboratories • Material Investigation Why choose us? Our management systems don't just tick boxes, they make real business improvements. We engage with your employees to develop and implement management systems tailored specifically for your organization. Most importantly we design the management system to meet certification requirements AND streamline your operational processes to achieve productivity and cost benefits associated with process improvements. .
There are always new vacancies coming up in Safe Systems For Advanced Technologies-SSFAT. While this is not the official career page Safe Systems For Advanced Technologies-SSFAT, we hope to quickly show you below the current live vacancies on the net.
There are currently no active Jobs from Safe Systems For Advanced Technologies-SSFAT.
Safe Systems For Advanced Technologies-SSFAT
http://jobs.laimoon.com/company/safe-systems-for-advanced-technologies-ssfat
Rated
5
/5 based on
1
evaluations