Careers in Royal For Recruitment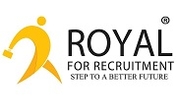 Royal is one of the leading job-placement and human resource agencies in Egypt.
What sets Royal apart is that we always find the suitable place or each of our candidates, and the suitable candidate for each of our clients.
It is a mere fact that multinational corporations would enlist the aid of Royal in finding the suitable human resources. No wonder that Royal has the leading position amongst job-placement offices in Egypt.Many changes are taking place in the Egyptian market. The market in Egypt is becoming more investor-oriented, and the trend towards privatization is growing. These changes create a demand for the services of human resource offices. It is expected that this demand will continue to grow over the coming years. To take its place as the leader in the market through its exceptional services, for it is our belief that there is no place for anything less than excellence.
There are always new vacancies coming up in Royal For Recruitment. While this is not the official career page Royal For Recruitment, we hope to quickly show you below the current live vacancies on the net.
Royal For Recruitment Jobs
Ensuring all Al-Futtaim standard recruitment processes and practises are followed. To act as an advisor to the HR Community and Hiring Managers for best...
UAE
SAP HCM & Successfactors modules – LMS, PMGM, Recruitment & Onboarding, EC & Service Desk. No two days are the same at Al-Futtaim, no matter what role you have....
Dubai
Arrange bulk recruitment, training and implementation according to deadlines. No two days are the same at Al-Futtaim, no matter what role you have....
Dubai
No two days are the same at Al-Futtaim, no matter what role you have. Our work is driven by the desire to make a difference and to have a meaningful impact...
UAE
To plan and implement agreed strategy for HR management and development including search and recruitment, succession planning, motivation, culture and...
Dubai
Mentor, coach and support with recruitment for new stores as per the recruitment process in order to secure competency within the ISL team....
Dubai
Royal For Recruitment
http://jobs.laimoon.com/company/royal-for-recruitment
Rated
5
/5 based on
1
evaluations