Careers in RAKAZ ELECTROMECHANICAL CONTRACTING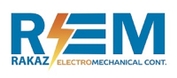 REM is a dynamic organization offering wide range of engineering solutions to customer's needs. Our highly experienced engineers and electricians who have expertise in all types of MEP works, ensures delivery of high quality service to our customers with utmost emphasis on customer satisfaction
The success of each of our project is attributed to the company's dedication to its major concept: coherence in quality approach. This makes the difference. It brings good outcomes that manifest high standard of the management team dependable workforce.
Apart from our expertise, Rakaz Electromechanical Contracting offers a steadfast commitment and dedication to its clients ensuring quality and reliability at reasonable cost. It is the aim of Rakaz Electromechanical Contracting to maintain long-term relationships with our clients and to establish a mutual trust. We continuously endeavor to maintain a good market share by developing good partnerships that makes Rakaz Electromechanical Contracting as one of the preferred suppliers of MEP services in this field.
There are always new vacancies coming up in RAKAZ ELECTROMECHANICAL CONTRACTING. While this is not the official career page RAKAZ ELECTROMECHANICAL CONTRACTING, we hope to quickly show you below the current live vacancies on the net.
RAKAZ ELECTROMECHANICAL CONTRACTING
There are currently no active Jobs from RAKAZ ELECTROMECHANICAL CONTRACTING.