Careers in Oman Fisheries Co S.A.O.G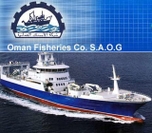 Oman Fisheries Co SAOG is the largest fishing company in the Sultanate of Oman. The company was formed in 1989 through the Royal Decree No. 79/87 of the Government of the Sultanate of Oman as a Joint Stock Company with the capital of Rial Omani 12.5 Millions.
The company is Certified by ISO 9001:2008 and HACCP compliant quality systems and has plants approved for export to European countries. Company are exporting Company's products to 35 countries. Company are involved in processing and marketing of fish and fishery products. Company's Processing, manufacturing and Cold storage facilities are spread over various parts of Sultanate of Oman and Company cater to the requirements of global markets. Company buy fish from the local fishermen through a network of procurement and processing centers all along the coast of Sultanate of Oman and Company receive fish that comes from Company's deep-sea trawler fishing in the Omani Waters.
Sultanate of Oman is situated in the eastern most corner of the Arabian Peninsula neighboring U.A.E, Saudi Arabia Yemen and Iran. The east boundaries have a 1700 km coast line facing the Indian Ocean. The country is a member of many environment protection organizations and has won many international awards. The government strictly controls pollution and environment measures and the seas are unpolluted.
Company look forward to conduct business with you at your convenience, and look forward to a long mutually win-win business relationships
There are always new vacancies coming up in Oman Fisheries Co S.A.O.G. While this is not the official career page Oman Fisheries Co S.A.O.G, we hope to quickly show you below the current live vacancies on the net.
There are currently no active Jobs from Oman Fisheries Co S.A.O.G.
Oman Fisheries Co S.A.O.G
http://jobs.laimoon.com/company/oman-fisheries-co-s-a-o-g
Rated
3.5
/5 based on
2
evaluations