Careers in Newlogic Computer Trading LLC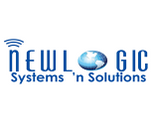 Newlogic was set up with the basic principle to undertake projects with total dedication regardless of the magnitude of works. We have started our journey with a mission of expanding and diversifying our business activities to encompass the areas of Extra Low Voltage (ELV) Systems, Green Energy & Green Building Systems, servers and storage systems, IT security systems, Renewable Energy Systems, Resource Conservation Systems, Broadcast Media and other Specialist Vertical Market Application Systems. Being a genuine, independent Solution Provider, we chose to build our own robust knowledge base prior to expanding and diversifying our activities. Consequently, our professional team today carries in-depth technical know-how and vast experience in every discipline of the works that we undertake.
There are always new vacancies coming up in Newlogic Computer Trading LLC. While this is not the official career page Newlogic Computer Trading LLC, we hope to quickly show you below the current live vacancies on the net.
Newlogic Computer Trading LLC
There are currently no active Jobs from Newlogic Computer Trading LLC.