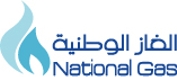 National Gas Company, a fully Omani owned Joint Stock Company is the pioneer in LP Gas Marketing in the Sultanate of Oman. The company was incorporated in 1979 to meet the growing LPG requirements of consumers in the region. In 1981, the company started bottling operations, heralded the beginning of LPG industry in Oman and has today spread its wings over the entire country by having 7 strategically located plants.
The Company has sustained its pioneering status as energy solutions provider in the Asian Energy Market by maintaining continuous growth and innovation. With presence in Oman, United Arab Emirates, Saudi Arabia,Qatar and Malaysia, the company is now focusing on the high growth South East Asian LPG market.
The company diversified to associated valued added businesses to increase its presence, customer satisfaction and shareholder's value.
National Gas Company Jobs
10-12 years in Security and preferably the Oil & Gas. And the national and federal security requirements for all ENOC installations....
UAE
Emirates National Oil Company(ENOC). Should have minimum 3 to 5 years experience in electrical maintenance, preferably in the Oil, Gas and Petrochemical...
Dubai
National Gas Company
http://jobs.laimoon.com/company/national-gas-company
Rated
5
/5 based on
1
evaluations