Careers in Majestic Furniture and Decoration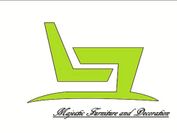  ABOUT US
Majestic Furniture and Decoration is a company with strong strength located in Dubai, U.A.E. It introduces a wide range of furniture products which includes Chairs, Sofas, School Benches, Tables, Office Furniture, Wooden Furniture, SS Furniture, Wrought Iron Furniture, Modular Kitchen Furniture, Safes, Blinds, Bean Bags - a one stop complete solution for all your needs. The ergonomic created furniture meets the most demanding requirements thus combining luxury with functionality.
With the motto to serve our customer with the latest products of furniture and to cater the needs of our esteemed customer, we have introduced a whole new and latest range of classic and modern designer furniture with the exclusive combination of stainless steel, wrought iron and wood.
 Our Strength
Our High Definition products of furniture showcase the power of advanced technology blended with exceptional creativity, quality and design.
 Our Commitment
We are always committed to serve our customers the best and latest products of furniture at reasonable prices, therefore we have professionally dedicated team and workshop and designing center equipped with advanced technology.
 Further More…
Proud to call ourselves a full service company, we also provide our valued clients with a turnkey solution for all of their interior decorating and design planning needs. Whether you have an upcoming renovation or are considering new construction, Majestic for Furniture and Decoration specializes in complete product lines to meet your requirements. From furniture, wall and floor coverings, light fixtures as well as window treatments, and accessories (such as art, plants and area rugs), we also offer an assortment of interior decorating services such as design planning (by room or whole building), art arranging, colour consultations, furniture arranging or project supervision. With Majestic for Furniture and Decoration you have the benefit of professional advice and follow-through service from purchase to delivery and installation.
There are always new vacancies coming up in Majestic Furniture and Decoration. While this is not the official career page Majestic Furniture and Decoration, we hope to quickly show you below the current live vacancies on the net.
Majestic Furniture and Decoration
There are currently no active Jobs from Majestic Furniture and Decoration.