Careers in Kuwait Foreign Petroleum Exploration Company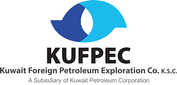 Established in April 1981 by its parent company KPC, KUFPEC is an international oil company, engaged in exploration, development and production of crude oil and natural gas outside Kuwait, active in Africa, Middle East, Asia, UK, Norway, Canada and Australia.
KUFPEC participates in joint ventures with similar companies in E&P of Oil and Gas both as an operator and partner.
Major Assets comprise of:
Offshore and onshore exploration leases
Oil and Gas properties and appraisal and development
Oil and Gas producing properties
The corporate structure is Pided into single corporate head office and 7 area offices in Egypt, Tunisia, Indonesia , Australia, Pakistan, Norway and Canada.
A Chief Executive Officer and 3 Vice Presidents – Finance and Admin, Business Development and Operations lead the head office with 11 managers and 6 non-executive Board members.
The area offices are headed by country managers reporting directly to the regional managers at the head office
Mission, Vision & Values
KUFPEC Mission, Vision and Values are shared with KPC upstream sector and aligned with KPC strategic direction reflecting our aggressive ambition in the business.
KPC Upstream Mission
To explore, develop and produce hydrocarbons within the State of Kuwait, the Pided zone and Internationally and so to be a secure and reliable supplier to our customers, promote the care and development of our people and deliver on our commitment to our stakeholders in a compliant, profitable, safe and environmentally responsible manner.
KPC Upstream Vision
Maximizing the strategic value from oil.
Realizing the potential of gas.
Growing reserves for a sustainable future.
Being an employer of choice.
Realizing value from technology.
Strengthening our commitment to HSSE.
Striving for excellence in performance.
Contributing to the Enterprise and State.
Values
Excellence, Flexibility, Partnership, Motivation, Commitment to HSSE and Society, One Identity and Integrity.
KUFPEC Strategic Targets:
Achieve crude oil and gas Production/Reserves targets of:
- 200 mboepd net production target by 2020 supported by a net reserve base of 650 mmboe and
maintain it through 2030.
Preference for investments which facilitate technology and capability transfer between domestic and international upstream businesses.
Achieve and maintain optimal ratio of oil & gas in international upstream portfolio.
Become operator of international upstream assets:
10% of daily production by 2020
15% of daily production by 2025
20% of daily production by 2030
There are always new vacancies coming up in Kuwait Foreign Petroleum Exploration Company. While this is not the official career page Kuwait Foreign Petroleum Exploration Company, we hope to quickly show you below the current live vacancies on the net.
There are currently no active Jobs from Kuwait Foreign Petroleum Exploration Company.
Kuwait Foreign Petroleum Exploration Company
http://jobs.laimoon.com/company/kuwait-foreign-petroleum-exploration-company
Rated
5
/5 based on
1
evaluations