Careers in JAMS HR SOLUTIONS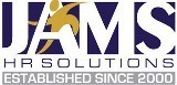 JAMS HR Solutions is an organization established in the year of 2000 solely specialized in providing HR Outsourcing, Contract Staffing, Recruitment and Manpower Services with capable for the major industries sector in Dubai - U.A.E and basically Jebel Ali Free Zone in their business related activities.
The company has grown rapidly through diversification and vertical integration, processing and the creation of strategic to cater specific customer's business needs. This is not because of our result-oriented services, reliability, availability and most importantly, assurance of our all valued clients who made us more responsible towards our sense of obligation.
We are now in our 17th years of business, and though we have continued to grow and expand, we also continue to maintain our commitment to outstanding and tailored customer service.
We would welcome the opportunity to have enduring business relationship.
JAMS HR Solutions Team
There are always new vacancies coming up in JAMS HR SOLUTIONS. While this is not the official career page JAMS HR SOLUTIONS, we hope to quickly show you below the current live vacancies on the net.
JAMS HR SOLUTIONS
JAMS HR SOLUTIONS Jobs
... team in shuttle carriers maintenance and to assist the team in Automated Stacking Crane maintenanceliululliWork rapidly ...
UAE