Careers in Foxstar Management Development & Training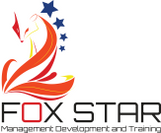 VISION
Regional leadership in Organizational Development, Compliance and Accreditation of
individual and Enterprises.
MISSION
Provision Best-In-Class services in field of Organizational Development, Individuals
Professional Qualification, and Enterprises, and accreditation in accordance with the latest
international standards and practices.
CORE VALUES
• Commitment to Quality
• Honesty
• Excellence
GOALS and OBJECTIVES
1. Promote for values, and principles of Organizational Development by providing
Management Consultations that ensure compliance of enterprises with international standards
and best practices, and spread the culture of Excellence in Governmental service at the
regional level.
2. Provision of Management and Technical training courses to develop enterprise's' staff skills
and to support the career path development in a way to qualify them for international
accreditations according to the latest international standards and specifications.
3. Provision assessment and accreditation services to individuals and enterprises in accordance
with international standards.
4. Train and qualify security and military personnel in their areas of competence to assure it
remains in align with modern standards in the field of security and military.
3
Management Consultation Services
Fox Star believes that successful productive organizations are always the driving forces
for social and economic development, which become the core of knowledge, skills, and
capital that motivate societies to achieve real economic growth and sustainable
development. Such type of success will require the organization to do sufficient linkage of
strategies, human resources, and systems with appropriate technology which effectively
increase the capacity of enterprises to sustain and grow in today's challenging environment.
In line with this belief, Fox Star has developed framework of integrated methodologies to
build and develop the corporate work system of the public and private sectors through the
following stages:
a) Diagnosis of the current practices and identifying the gaps per the criteria and / or
the planned requirements.
b) Establish the corporate work systems needed to bridge existing gaps to ensure
that the organizations meet the requirements and/or standards to be accessed against
it.
c) Initial and final assessment of designed applied system to bridge gaps.
d) Implementation, training and supervision of the application.
In addition, providing feasibility study services for various projects and how to develop
them, re-engineering processes, and build up different methodologies and supporting
operation that achieve of excellence per different programs.
4
SERVICES
Training and Qualification
There are always new vacancies coming up in Foxstar Management Development & Training. While this is not the official career page Foxstar Management Development & Training, we hope to quickly show you below the current live vacancies on the net.
Foxstar Management Development & Training
There are currently no active Jobs from Foxstar Management Development & Training.