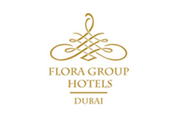 Flora Hospitality is the hospitality division of Flora Group Hotels and our portfolio comprises of six delightful well situated properties within the United Arab Emirates.
Most of their operations are in Dubai.
Flora Hospitality Jobs
Please reply only if you have experience in Hospitality industry._. _We are looking for a HR Assistant with an experience as an HR Assistant in 4/5\*....
Dubai
* Minimum 6 months experience from a reputed 4/5\* hotel or an International Hotel chain *OR* * Hotel Graduation + 1 year experience from a Hotel * Strong Job
Dubai
_We are looking for an Accommodation Attendant with an e_ _xperience in the similar role_ *Requirements: * The ideal candidate should have: * Minimum 1 year
Dubai
Basic Hospitality knowledge. Who is willing to develop career in hospitality and be a part of a growing company._....
Dubai
* Hotel School or Culinary Certificate + 1 year experience as a Commis I in a 4/5\* international hotel chain OR * Minimum 2 years experience as a Commis I in
Dubai
*_Criteria: _* * Hotel School or Culinary Certificate + 1 year experience as a Commis I in a 4/5\* international hotel chain OR * Minimum 2 years experience
Dubai
Candidate should be IRATA Level 1 certified Job Type: Full-time Required education: * High school or
Dubai