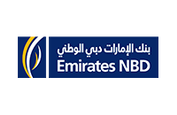 Emirates NBD is one of the largest banking groups in the Middle East in terms of assets.Emirates NBD was formed on 16 October 2007 when the shares of Emirates NBD were officially listed on the Dubai Financial Market (DFM). The merger brought together the UAE's second and fourth largest banks (Emirates Bank and National Bank of Dubai) by assets and has created a bank with the largest asset base in the Middle East, summing up to more than AED 282 billion as at the end of the year 2008.
The Group has operations in the UAE, the Kingdom of Saudi Arabia, Qatar, the United Kingdom and Jersey (Channel Islands), and representative offices in India and Singapore.[1] In December 2013, it was reported that Emirates NBD had partnered with London-based Jupiter Asset Management to help manage global investment assets exceeding US$100 million.
Emirates NBD Jobs
Across Emirates NBD businesses. The candidate will be responsible....
Dubai
PAL IT programme is specifically designed to share those university graduates, who are interested in an IT career. The programme is an intensive 18 month
Dubai
PAL Retail prepares those university graduates who wish to pursue a career in Retail at Emirates NBD for managerial positions through classroom and on-the-job...
Dubai
Al Misha'al is a six month training programme that is designed to train you for key front line positions such as Tellers and Customer Service Executives.
Dubai
PAL Finance programme is specifically designed to shape those university graduates who get excited by numbers. The program has both classroom and on-the-job
Dubai
ETFS ( Emirates Trade Finance Services). The programme is for those university graduates who are interested in a career in Wholesale Banking....
Dubai
Emirates NBD Capital. Emirates Financial Services. To go through an extensive course on Capital market in order to understand and manage work based situations...
Dubai
Emirates NBD
http://jobs.laimoon.com/company/emirates-nbd
Rated
5
/5 based on
2
evaluations