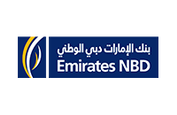 Emirates NBD is one of the largest banking groups in the Middle East in terms of assets.Emirates NBD was formed on 16 October 2007 when the shares of Emirates NBD were officially listed on the Dubai Financial Market (DFM). The merger brought together the UAE's second and fourth largest banks (Emirates Bank and National Bank of Dubai) by assets and has created a bank with the largest asset base in the Middle East, summing up to more than AED 282 billion as at the end of the year 2008.
The Group has operations in the UAE, the Kingdom of Saudi Arabia, Qatar, the United Kingdom and Jersey (Channel Islands), and representative offices in India and Singapore.[1] In December 2013, it was reported that Emirates NBD had partnered with London-based Jupiter Asset Management to help manage global investment assets exceeding US$100 million.
There are always new vacancies coming up in Emirates NBD. While this is not the official career page Emirates NBD, we hope to quickly show you below the current live vacancies on the net.
Emirates NBD Jobs
Emirates NBD Asset Management Limited is the asset management business of the Emirates NBD group managing public funds and segregated accounts on behalf of...
Dubai
Welcome to a new world of convenience with the Go4it Card brought to you by Emirates NBD and Roads & Transport Authority (RTA)....
Dubai
Department Description: The SIG segment was set up in Mar 2014 to mainly focus on large Corporates in the Contracting Global Corporates Wholesale Retail Trade...
Dubai
Department Description: For each major business unit there is an IT application domain that has been established to manage and deliver system solutions...
Dubai
Department Description: The Social Media Unit supports the organization to create an online comprehensive interactive presence on social media platforms It is...
Dubai
Associate Vice President, FI Cash & Trade Sales | Manager. Q ENBD Transaction Banking Services Department Description: Transaction Banking TB provides a...
Dubai
Compliance Administrator | Associate. L ENBD Securities Department Description: To ensure compliance and adherence to rules and regulations provided by the...
Dubai
Department Description: The purpose to hire this candidate is to provide support to the SIG Unit in managing the Coordiantion activity and the CDD activity...
Dubai
Department Description: The Strategy Business Support unit manages 4 main areas for Wealth Management overall and the Private Bank 1 Strategy Special Projects...
Dubai
Retail Cards is the most profitable of the retail businesses and has a strong growth demonstrated in the last 7 years Cards today is the largest contributor...
Dubai
Improve Emirates NBD Group business performance by providing world class strategic sourcing and support services which is aligned to our digital transformation...
Dubai
Manager, Communication and Change Management | Manager.P Department Description: The IT Governance team is responsible for ensuring the organization...
Dubai
And Strategy & NBD. To develop, implement and maintain a fit for purpose Compliance Program for ENOC Group of Companies, according to international best...
UAE
Emirates NBD
http://jobs.laimoon.com/company/emirates-nbd
Rated
5
/5 based on
2
evaluations