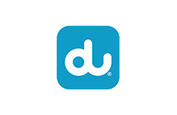 Du's official name is Emirates Integrated Telecommunications Company (EITC). It was commercially branded as du in February 2007. The company had 4.5 million subscribers as of the end of March 2011. The company launched mobile telecommunication services in February 2007 across the UAE and it reported its 2008 full year results in February, revealing it had added 1.88 million mobile customers over the 12 months. Revenue of $1.08bn was 157% up on the previous year. Before the launch of services in 2006, shareholders offered 20% of their shares in an IPO. Emirates Bank and Emirates Financial services managed the share sale.
EITC is 39.50% owned by Emirates Investment Authority (EIA), 20.08% by Mubadala Development Company, 20% by Emirates Communications & Technology Company LLC (ETC) and 20.92% by public shareholders.It is listed on the Dubai Financial Market (DFM) and trades under the name du.
There are always new vacancies coming up in du. While this is not the official career page du, we hope to quickly show you below the current live vacancies on the net.
du Jobs
The purpose of this position is to build strong relationship with enterprise clients to achieve best in class customer services. To act as the point of
Dubai
Knowledge of internal du policies and procedures is an asset. To lead datacenter audits against du datacenter standards and their planned maintenance schedule...
Dubai
The purpose of this position is to internally report for operational areas with the purpose of operational issue identification and root cause analysis, to
UAE
The purpose of this position is to manage provided partners end to end retail business channel, including budget, stock and campaigns. Below are the
Dubai
This Position is responsible to monitor compliance against laws, regulation and report violations of laws and regulation to Head of internal control and
Dubai
The purpose of this position is to support Architecture Governance to deliver the blueprint vision of Operations framework by defining Architecture governance
Dubai
The purpose of this position is to maximize the effective execution of current contracts in place and utilization of the strategic vendors in line with
Dubai
The purpose of this position is to manage the payments operations team and to ensure the integrity, efficiency and effectiveness of business processes and
Dubai
UAE Sales with du or Etisalat Partner:. Sell du Telecom products and services, promotional offers etc. Must be expert in Bill analysis and accordingly upgrade...
Dubai
Du Channel Partner based in Abu Dhabi is looking for Corporate Sales Officers (Filed) to join immediately with Abu Dhabi team to sell Enterprise Plans....
Abu Dhabi
We are a direct channel partner of Du Telecom. Meet potential customers and convince them to apply for Du internet and landline at their residence....
Dubai
Responsible for Engineering issues within the restaurant Responsible for maintenance work in the restaurant such as electrical, plumbing, carpentry, painting
Dubai
Consisting adherence to policies and procedures of La Cantine du Faubourg as outlined in manuals and other training manuals....
Dubai
* Ensure that service is up to La Cantine the Faubourg standards * Ensure highest stand of service at all time * Explain menu to detail, If costumer request *
Dubai
A microfinance credit cooperative is urgently looking for a *FILIPINO* *Finance and Operations Manager* based in *Douala - Cameroon* and it requires relocation
Dubai
du
http://jobs.laimoon.com/company/du
Rated
5
/5 based on
6
evaluations