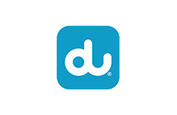 Du's official name is Emirates Integrated Telecommunications Company (EITC). It was commercially branded as du in February 2007. The company had 4.5 million subscribers as of the end of March 2011. The company launched mobile telecommunication services in February 2007 across the UAE and it reported its 2008 full year results in February, revealing it had added 1.88 million mobile customers over the 12 months. Revenue of $1.08bn was 157% up on the previous year. Before the launch of services in 2006, shareholders offered 20% of their shares in an IPO. Emirates Bank and Emirates Financial services managed the share sale.
EITC is 39.50% owned by Emirates Investment Authority (EIA), 20.08% by Mubadala Development Company, 20% by Emirates Communications & Technology Company LLC (ETC) and 20.92% by public shareholders.It is listed on the Dubai Financial Market (DFM) and trades under the name du.
There are always new vacancies coming up in du. While this is not the official career page du, we hope to quickly show you below the current live vacancies on the net.
du
du Jobs
... 1 year of experience in Robotic Process Automation (preferably Pega Robotics ...
UAE
... developing and driving the EITC&x2019s regulatory strategy ... skills brbr Project Management skills including ability ...
UAE
... designed for an experienced creative with strengths in ... oriented with excellent project management skillsli liAbility to ...
UAE