Careers in COMPAL ELECTRONICS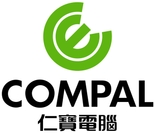 Compal's corporate headquarters is located in Neihu District of Taipei and it is the hub of Compal's various operations including administration, sales, purchasing, account and finance as well as its R&D center. Compal has been aggressively cultivating its capacity for independent R&D in order to secure key technologies. Thorough and efficient in-house communication, step-by-step project completion and solid development capabilities have always been the key strengths of Compal that allowed the Company to win its customers' trust. Thanks to the collective effort and hard work from more than 6,000 highly-skilled talents in technology over the world, coupled with the Company's spirit for total commitment, Compal's offering of IT products has always been more in line with consumers' needs.
After years of experience in the market, Compal has learned that quality, cost, service and speed of launch are the crucial prerequisites for any competitive product. And as such, Compal has adopted the practice of assembling dedicated R&D taskforces for different clients in various fields (i.e. notebook PC, LCD TV, Smart Device, automotive electronics and other emerging products ) in order to keep up with the rapidly changing market demands while achieving significant success in the area of patent application. With strict QA operations that commence right from the research and development phase, coupled with the use of state-of-the-art instruments and equipment, Compal has gone at great lengths to conduct an extensive series of stringent tests driven as by its insistence on excellence and perfection. It is such commitment and dedication to quality that separates all Compal products from other offerings in the market for its superior quality. The growth of Compal's R&D expenses and pool of engineers over the years is an apt reflection of the Company's determination in staying ahead of the game and efforts in designing new products.
There are always new vacancies coming up in COMPAL ELECTRONICS. While this is not the official career page COMPAL ELECTRONICS, we hope to quickly show you below the current live vacancies on the net.
There are currently no active Jobs from COMPAL ELECTRONICS.
COMPAL ELECTRONICS
http://jobs.laimoon.com/company/compal-electronics
Rated
5
/5 based on
1
evaluations