Careers in Claris Lifesciences Limited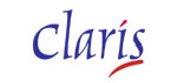 Claris Lifesciences Limited, a BSE listed company, is a multi-business enterprise and the Holding Company of Claris Injectables - a wholly-owned subsidiary dealing in Specialty Injectables business, collectively 'Claris'; and Claris Otsuka - a Joint Venture with Japanese Otsuka Pharmaceutical Factory, Inc. & Mitsui & Co. Ltd. for Infusion business in India & Emerging Markets. Coupled with Company's strength of technical know-how & expertise in manufacturing and marketing injectables products, Company's growth is catapulted with the support of a team of scientists, pharmaceutical experts, and management professionals, who work diligently to take the organisation to newer heights year-on-year.
Claris Injectables
Claris manufactures and/or markets products across multiple delivery systems, markets, and therapeutic segments, including anesthesia & analgesics, blood products, anti-infectives, critical care, and nephrology. A significant majority of these products are generic drugs, capable of being directly injected into the human body, predominantly used in the treatment of critical illnesses. The customer base primarily includes government and semi-government institutions, group corporate hospitals, standalone prominent hospitals, and nursing homes. With emphasis on quality, technology, and innovation, Company offer a range of niche technology-driven injectables products across delivery systems, such as bags (PVC & NPVC), vials, ampoules, glass bottles, etc.
Claris Otsuka
Claris Otsuka, a leader in intravenous nutrition products, is committed to being the best partner of patients and healthcare professionals in the field of clinical nutrition. The product range stretches across various therapeutic segments, including infusion therapy, nutrition, anti-infectives, and plasma volume expanders. The products are offered through various delivery systems, such as glass and plastic bottles (EURO Head & Nipple Head), ampoules, and bags (PVC & NPVC). The customer base primarily includes government & private hospitals, aid agencies, and nursing homes. Company's primary concern is the quality of the products; however, company feel company have a responsibility beyond company's business commitments, and therefore being a socially responsible organisation, we support several social causes aimed at promoting sports, health, education, and culture encompassing the broader spectrum of the society.
There are always new vacancies coming up in Claris Lifesciences Limited. While this is not the official career page Claris Lifesciences Limited, we hope to quickly show you below the current live vacancies on the net.
There are currently no active Jobs from Claris Lifesciences Limited.
Claris Lifesciences Limited
http://jobs.laimoon.com/company/claris-lifesciences-limited
Rated
5
/5 based on
1
evaluations