Careers in Bright Future Training Institute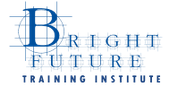 BRIGHT FUTURE ushers every human being to acquire the knowledge,skills, attitudes and values necessary to shape up a promising and sustainable future. We recognize our vital role in delivering a quality of training for everyone in the UAE, both now and the generations in store. Bright Future is committed to culminate the wished results with a perfect blend of senior educationists and young breed of energetic trainers on its faculty. We encourage the staff to adopt innovative and interactive methods of training in order to make the institute an example of posterity.
Bright Future works under the umbrella of Knowledge and Human Development Authority - KHDA Dubai Govt. Currently seven departments are rapidly producing hundreds of Professionals to international market, the seven departments are listed below;
Departmenet of Tourism & Hospitality
Department of Soft Skills and Languages
Department of Engineering
Department of Management
Department of Information Technology
Department of Finance
Departent of Accounting
There are always new vacancies coming up in Bright Future Training Institute. While this is not the official career page Bright Future Training Institute, we hope to quickly show you below the current live vacancies on the net.
Bright Future Training Institute
There are currently no active Jobs from Bright Future Training Institute.