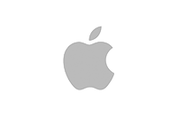 Apple Inc. is an American multinational technology company headquartered in Cupertino, California, that designs, develops, and sells consumer electronics, computer software, and online services. Its hardware products include the iPhone smartphone, the iPad tablet computer, the Mac personal computer, the iPod portable media player, and the Apple Watch smartwatch. Apple's consumer software includes the OS X and iOS operating systems, the iTunes media player, the Safari web browser, and the iLife and iWork creativity and productivity suites. Its online services include the iTunes Store, the iOS App Store and Mac App Store, and iCloud.
Apple was founded by Steve Jobs, Steve Wozniak, and Ronald Wayne on April 1, 1976, to develop and sell personal computers.[5] It was incorporated as Apple Computer, Inc. on January 3, 1977, and was renamed as Apple Inc. on January 9, 2007, to reflect its shifted focus toward consumer electronics. Apple (NASDAQ: AAPL) joined the Dow Jones Industrial Average on March 19, 2015.
Apple is the world's largest information technology company by revenue, the world's largest technology company by total assets, and the world's second-largest mobile phone manufacturer. On November 25, 2014, in addition to being the largest publicly traded corporation in the world by market capitalization, Apple became the first U.S. company to be valued at over US$700 billion. The company employs 115,000 permanent full-time employees as of July 2015 and maintains 453 retail stores in sixteen countries as of March 2015; it operates the online Apple Store and iTunes Store, the latter of which is the world's largest music retailer.
There are always new vacancies coming up in Apple. While this is not the official career page Apple, we hope to quickly show you below the current live vacancies on the net.
Apple Jobs
Job Duties and Tasks for: "Cashier -philipino and nepali" 1) Receive payment by cash, check, credit cards, vouchers, or automatic debits. 2) Issue...
Sharjah
We are looking for an experienced Russian speaking lady travel agent that will be based in Dubai. Only Russian speaking people can apply. Our location is...
Dubai
Blue Apple Corporation. Greetings from Blue Apple Corporation !!! Client Interview on Sunday (18-Mar-2018) - 11 AM to 4 PM....
UAE
We are looking for a trainer for Telemarketing. Apply only if you have experience in Training people for Telemarketing. Please send us your your cover...
Dubai
Please share your cv on hr(at the rate)greenappleadv.com and mention the subject of the email "Sales Executive - Green Apple"....
Dubai
we need Indian female sales coordinator with or without experience please send your resume to an\_suhail@yahoo com Job Type: Full-time Salary: AED1,500.00...
Sharjah
Blue Apple Corporation. Greetings from Blue Apple Corporation !!! Urgently required for a Large Facility Management Company Based in Dubai:....
UAE
The Apple International School, Al Qusais 1, Dubai, UAE (Near Al Nahda Metro Station). LIVING ARABIC TEACHER*....
Al Qusais
American English speakers, full time, highly motivated females who are passionate about teaching preschoolers ages 3-4 years, with 1-2 years experience in...
Abu Dhabi
Apple
http://jobs.laimoon.com/company/apple
Rated
5
/5 based on
1
evaluations