Careers in Acsys Controls Systems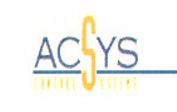 THE COMPANY
ACSYS Control Systems L.L.C. is a national engineering company specialized in the field of building and home automation products and systems. ACSYS has developed strategic partnerships with world leading developers and manufacturers of software (front end supervisory systems) and hardware (DDC controllers, sensors, control valves and actuators), in addition to a comprehensive range of products that enables us to meet any requirement when it comes to building management systems or automation installations for any type or size of property, and whatever the complexity. Our strong knowledge, experience and awareness of the continuous development in this field, enables us to provide total solutions, for special automation and integration requirement. ACSYS also provides products and commissioning services for Chilled Water / Hot Water Balancing.
OWNERSHIP
ESTABLISHED
SCOPE
From single product to turn-key solutions.
We design, supply, testing, commission, operate and maintain.
- Building Automation & Energy Management Systems
- Energy Metering Systems
- Security Systems
- Technical Property Management Systems
- Balancing valves and services (supply & commission)
- Valves for building services, water supply, drainage (supply & commission)
- Electrical Switchgear - MCC & LV panels
- Control Cables & Power Cables
MISSION STATEMENT
To be the preferred and the leading control systems engineering company in the Middle East capable of providing optimal total solutions (products, systems, and services) that meet and/or exceed the Customer objectives set forth for control systems of electrical and electro-mechanical systems in any type of property or process, utilizing our application know-how and the latest technology in the controls engineering industry.
There are always new vacancies coming up in Acsys Controls Systems. While this is not the official career page Acsys Controls Systems, we hope to quickly show you below the current live vacancies on the net.
Acsys Controls Systems
There are currently no active Jobs from Acsys Controls Systems.