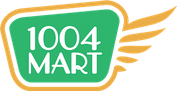 Estalished in Mart was an idea that started with serving the local community with Korean food.
Our store, located in Al Barsha 1, opened in July and since then, 1004 Mart has been listening to the residents in the UAE who have a passion for Asian cuisine.
Our product line of over 2,500 items ranges from dry, chilled and frozen seafood, vegetables and fruits.
We also import fresh Japanese seafood from the world's biggest fish market in Tokyo called Tsukiji and Seoul's largest fish market called Noryang-jin.
A lot of our ingredients are being cooked and served in over 50 of the top hotels and restaurants such as Burj Al Arab, Armani Hotels at Burj Khalifa and Atlantis Hotels on the Palm Island.
1004 Mart also supplies food to the biggest catering companies all over the UAE, including Al Ruwais, which is 4 hours away from Dubai.
There are always new vacancies coming up in 1004 Mart. While this is not the official career page 1004 Mart, we hope to quickly show you below the current live vacancies on the net.
1004 Mart
There are currently no active Jobs from 1004 Mart.