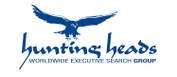 Hunting Heads covers recruitment of top level management in all major sectors including Dos Search and Healthcare. We have more than 220 Headhunters and 35 offices in 23 countries across Europe, America, Asia and Middle East.
&l

Today we are trusted advisor to many of the world's most respected organizations and a leading Executive Search firm.

Related searches Recruitment , Human resources , Recruiter , HR
There are currently no jobs active on this Agency.