Careers in CAI-STA Philippines, Inc.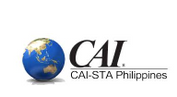 CAI-STA Philippines, Inc. is a joint-venture between US-based Company - Computer Aid, Inc. (CAI), and local company - SoftTech Advantage, Inc. (STA). CAI-STA was formed to service the growing demands of Fortune 500 companies and government agencies across the United States, Europe, and the Philippines for a better delivery of Information Technology Services. CAI-STA is a part of Solution Delivery Centers established by Computer Aid, Inc., in order to provide world-class, value-added IT solutions to clients. CAI-STA has over 200 associates in the Philippines, complementing the more than 2,500 CAI associates located in the United States and Europe. Our service offerings are founded on the acknowledgement that associates are a critical resource for success. We are proud to have a collegial environment of respect and willingness to challenge the status quo which allows CAI-STA's business to continually improve. If you are willing to "go the extra mile", are challenged to think beyond your current paradigms, and have a great deal of respect for each other's thoughts and ideas, then you belong with CAI-STA Philippines, Inc.
There are always new vacancies coming up in CAI-STA Philippines, Inc.. While this is not the official career page CAI-STA Philippines, Inc., we hope to quickly show you below the current live vacancies on the net.
CAI-STA Philippines, Inc.
CAI-STA Philippines, Inc. Jobs
... Development Web Developer Java J2EE Java SE IT & Technology ... working experience in Java development, preferably on web ...
Philippines - Taguig