Careers in Presto Integrated Solutions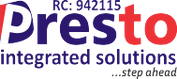 Presto Integrated Solutions is an integrated technology development company targeted at proffering solutions to fulfil human needs by means of both Information and communication technology (ICT) and electrical solution development. Believing we can stand the tide of events and technological evolutions, we run our flag on a three colour policy. With our red colour signifying our strength and speed of delivery, white signifying distinctiveness & uniqueness and black standing for compatibility. Presto integrated Solutions does not stop at developing efficient yet cost effective solutions, we also deliver outstanding after sales service and support. Because people are forced to adapt to products delivered to them by peer companies, we at Presto Solutions develop our products to acclimatize to the needs of our clients so that our products solve your problems and not you struggling to solve the problems of our products.
There are always new vacancies coming up in Presto Integrated Solutions. While this is not the official career page Presto Integrated Solutions, we hope to quickly show you below the current live vacancies on the net.
Presto Integrated Solutions
There are currently no active Jobs from Presto Integrated Solutions.