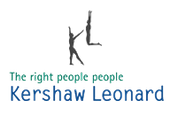 Kershaw Leonard covers over 20 employment areas with some interesting specialisms including beauty, FMCG, Pharamceutical and Supply Chain. They also employ for roles in HR, Finance, Engineering, Secretarial and most of the other major recruitment

Kershaw Leonard's mission is to find first class people for their world class clients.

Related searches Recruitment , Human resources , Recruiter , HR
There are currently no jobs active on this Agency.