Job details
About us
At Crowne Plaza®, we want our guests to feel able to do their best, achieve their goals and be recognized for their success. To help them we need you to stay One Step Ahead and; Create confidence – by being an expert at what you do; by acting and looking the part and adapting your style to match your guests' pace in all you do. Encourage success – by supporting and respecting your guests and their goals; by recognizing them and making them feel valued and important; and offering thoughtful choices to help them feel restored and balanced. Make it happen – by being perceptive to your guests' needs; by taking ownership for getting things done and working seamlessly with others to help guests be successful.
Your day to day
Your Day to Day This position is used for Spa Aquatonic. Under the general direction of the Spa Manager and Leisure Sales Manager within the limits of established standards of Spa Aquatonic, local policies and procedures, responsible for all activities relevant to the Spa Aquatonic assisting all guests with inquires. Promotes the desired work culture around the five core values of Trust, Integrity, Respect, one Team and Service of the Inter Continental Hotels Group and the brand ethos. To facilitate the proper tracking of Guests & Members, activities, classes, relevant accounting procedures as well as provide courteous, friendly help and assistance to all Guests & Members at all times. To up sell treatments and packages and sell memberships. Maintain a sales database and manage member's data. Enhances staff accomplishments and competence by planning delivery of solutions; answering technical and procedural questions for less experienced team members mentoring team members. Identifies business opportunities by identifying prospects and evaluating their position in the industry; researching and analyzing sales options. Prepares reports by collecting, analyzing, and summarizing information. Maintains quality service by establishing and enforcing organization standards. Maintains professional and technical knowledge by attending educational workshops; reviewing professional publications. Contributes to team effort by accomplishing related results as needed.
What we need from you
What we need from you... - Communication skills - guests will need to come to you with concerns as well as compliments, so you'll be easy to talk to- Your problem-solving skills will turn issues into opportunities so every guest leaves with great memories- Fluency in the local language - extra language skills would be great, but not essential- Literate and tech-savvy - you'll need a good grasp of reading, writing, emails and Microsoft applications - Flexibility - night, weekend and holiday shifts are all part of the job- College / University graduate – relevant to the job- Experience - ideally you'll have spent at least minimum of two years in the same field or in Sales & Marketing
What we offer
We genuinely care about people and we show this through living out our promise of True Hospitality each and every day. It's what connects every colleague in all IHG® hotels.
Apply safely
To stay safe in your job search, information on common scams and to get free expert advice, we recommend that you visit SAFERjobs, a non-profit, joint industry and law enforcement organization working to combat job scams.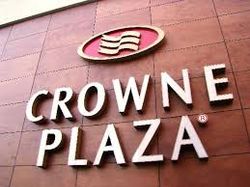 Hiring company
Crowne Plaza
Travel and work abroad in Canada with CROWNE PLAZA HOTEL Urgent Workers Need in CANADA

CROWNE PLAZA HOTEL CANADA It is recruiting experienced industrial workers (Waiter / Waitress, Cleaners,Receptionist, Driver, Cashier, Delivery boy, etc.) CROWNE PLAZA HOTEL CANADA
- Hide
Improve your chance to get this job.
Do an online course on Sales and Negotiation starting now.
Claim $10 promo towards online courses.
See all courses
Similiar Jobs that might interest you