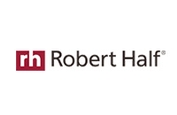 Robert Half leads in having worlds largest number of accounting and financing staff.Robert Walter is also one of the world's leading specialist professional recruitment counsultancies with 53 offices spanning over 24 countries.
&l
Robert Half was ranked first as the World Most Admired Company by Fortune magazine in 2012.It was also awarded by Laxembourg as the Best Agency for Online Services in 2011.
Related searches
Recruitment
,
Human resources
,
Recruiter
,
HR
There are currently no jobs active on this Agency.